Versatile Siding Options for Your Greenville Home
We install a variety of siding materials that will look beautiful while protecting your home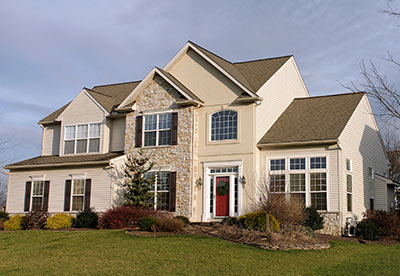 The right siding will bring out the full potential of your home's exterior.
The siding on your home is equally used for protection as well as aesthetic appeal. It is the external shell of your house, therefor you want it to be properly maintained while providing an attractive appearance.
Here at RoofRoof, we offer quality siding services that will help repair and maintain your siding for years to come. We also offer new siding installations in the exact color and design specifications you desire.
Get the style and durability you've always wanted with the right siding company. RoofRoof's services are available all throughout South Carolina, including Greenville, Spartanburg, Easley and nearby. Click the button below to set up a free on-site estimate.
Products
Headquartered in Valley Forge, PA, CertainTeed is a leading North American manufacturer of building materials and specializes in the production of high quality roofing and other materials including vinyl siding, trim, fence, railing, decking, insulation, gypsum, and ceiling products.
The Beauty Of Vinyl Siding

Any look - historic to contemporary - can be achieved with today's vinyl siding. Vinyl siding has the widest variety of style and color offerings of any other exterior siding, including:
Horizontal and vertical panels
Shakes, scallops, shingles, fish scales
Traditional clapboard
Dutchlap
Beaded designs
Durability
The ability to withstand high winds (certified up to 110 mph or higher) and a composition that resists heat, cold and moisture, certified vinyl siding retains its great looks over time. Vinyl siding never needs paint. Ever. The only maintenance it will need is a simple wash with a soft cloth and garden hose to keep it looking great.
Quality
CertainTeed Vinyl Siding offers the best vinyl siding features and color options, along with exceptional durability and lasting beauty.
- What's the best way to prove a product will perform as promised?
Independent testing. This is why the Vinyl Siding Institute (VSI) established the VSI Product Certification Program.
Administered by Architectural Testing, Inc. of York, PA, the program allows manufacturers to certify with independent, third-party verification that their products meet or exceed the testing requirements specified in the industry standard for quality.
-How many products have passed this Certification Program?
There are nearly 825 products and nearly 325 colors on VSI's Official List of Certified Products and Colors. In 2012, approximately 18 million squares of vinyl siding were manufactured in the United States. (A square equals 100 square feet of siding, or enough to cover a 10-foot x 10-foot area.) Another key test of quality is how long manufacturers are willing to warrant their products. Warranties offered by vinyl manufacturers typically last a lifetime and can be transferred to the next owner.
Mastic Home Exteriors by Ply Gem is the "Exterior Solution" for homeowner's with a wide range of products including insulated siding, traditional vinyl siding, polymer shakes, replacement windows, shutters, vinyl soffit, aluminum soffit, fascia, gutters and gutter protection.
Mastic Traditional Lap Siding
Mastic Traditional Lap Siding provides the clean lines and easy installation that have made lap siding a popular choice for homeowners with the quality and durability you can count on from Mastic. This siding will not only make your home look great, but it will also help protect it from the elements for years to come.
Why Choose Mastic Traditional Lap Siding?
13 separate product lines
Wide range of colors and finishes, including multiple wood grains
Multiple sizes and profiles complete custom look
Designed by Mastic, a leading industry manufacturer
Alside provides the latest energy-efficient products backed by industry-leading warranties and can assure customer satisfaction with every investment in their business. Alside has specialized in over 70 years of excellence in the exterior building products industry and they stand by their innovative ideas and functionality of their products.
Charter Oak® Energy Elite
Charter Oak® Energy Elite is a specific brand of insulated vinyl siding that can improve the look and feel of your home. Not only does it reduce energy costs in your home, but it allows your home to be at its maximum energy efficiency so that you don't have to stress when the utility bill comes. Your home can greatly benefit from having Charter Oak® Energy Elite installed. It can withstand harsh weather conditions and provides a visually stimulating look to the outside of your house. Charter Oak® Energy Elite is more breathable and durable than regular siding and comes with a lifetime warranty.
Prodigy Siding
Alside Prodigy Siding offers exceptional resistance to heat flow which translates into utility costs savings.
Royal is a leading manufacturer of durable building materials including siding, trim, windows, doors and more.
Royal Building offers an assortment of siding options, including shake & shingle siding, insulation siding and traditional siding. All our siding products offer several great benefits for homeowners:
Improved R-value for better energy efficiency
Variety of styles and colors for a beautiful finished finished
Excellent durability and impact resistance
Low maintenance materials
For 70 years, PlyGem has devoted themselves in manufacturing high quality, energy efficient windows, doors, siding, fences, gutters and much more. They are leading the exterior design industry with their low maintenance and wide variety of products.
Variform
Variform vinyl siding allows homeowners to enjoy custom homes with great durability. Variform's exterior products offer several great benefits:
Variety of styles including siding that imitates wood shakes
Wide range of color options
Exceptional durability
Water resistant siding
Insulated options available
Norandex has been dedicated to providing high-quality home exterior products for American homeowners since 1964. Specializing in a variety of colors and styles of siding, windows, and doors that offer low maintenance, beauty, and even energy efficiency, their products are designed to work for all kinds of construction and remodeling needs.
Norandex Siding
Norandex premium vinyl siding combines the best of both worlds: the durability that comes with using a modern material, and a classic, customizable look. Vinyl continues to be one of the most popular choices for siding, and Norandex offers top-of-the-line products that homeowners trust.
Benefits of Norandex siding products
Available in a variety of colors and styles
ColorHold technology resists against fading
NailRIGHT technology keeps siding in place
Low maintenance and easy to clean
Different materials have different beneficial qualities
Choosing the right material depends on what you want your home's exterior to look like and the degree of maintenance each material needs. Some materials tend to be lower maintenance than others.
Vinyl Siding - This is probably the most durable siding option for the cost. Vinyl can provide you with the look of real wood without the cost and maintenance. This type of siding delivers excellent performance without the upkeep that other materials need. Vinyl siding also won't peel, chip or rot and never needs to be re-painted.
Fiber Cement Siding - This type of siding can emulate any style of siding, such as cedar shingles, wood and stucco, without any of the drawbacks. It is completely resistant against fire, wind, bugs and wood rot. Fiber cement is also extremely durable and there is little to no maintenance required.
Aluminum Siding - Completely resistant to fire damage with an enamel coating that can mimic other siding materials, aluminum siding is the perfect combination of strength and efficiency.
Go with a siding contractor in South Carolina you can trust!
All of these materials are available from RoofRoof. Our professionals deliver quality craftsmanship for all siding jobs. Whether you need repairs or new siding installation, we are here to help. Our services are readily available in Greer, Anderson, Greenwood, Simpsonville, Gaffney, Taylors, Hendersonville and nearby areas. Please call or contact us online for a free estimate!
Looking for a price? Get a no cost, no obligation free estimate.