Experienced Roof Replacement Contractor in Easley, Simpsonville, Greenville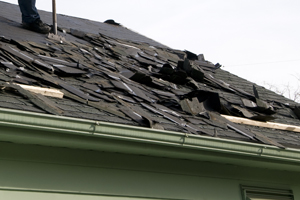 Added Value & Structural Integrity. Replacing your roof is a beneficial alternative to spending thousands on endless repairs and it will add value to your home.

The Design EyeQ® Visualization Tool allows you to experiment with different roofing options to create your "dream home look" before you make a purchase.
Let us replace your roof with an efficient, longer lasting material
Replacing your roof is probably one of the biggest investments to consider. An expense this large can become daunting when it comes time to search for the right price and the right company. That is why when you choose to work with Mighty Dog Roofing we combine both affordability and quality for every job.
Our honesty and integrity lie within our work, and we truly believe by advising customers to follow through with the proper upkeep of their roof will help them avoid costly repairs and even unnecessary roof replacements.
We can accurately determine the strength, stability and overall condition of your roof and be able to advise you on whether or not you need a full replacement.
As a contractor we specialize in roof replacements all throughout South Carolina, including Greer, Anderson, Greenwood, Salem, Balsam Grove, Taylors, Hendersonville. Call us today for a free roof replacement cost estimate in your area. We look forward to hearing from you!
Replacing your roof is more cost-efficient than extensive repairs
If you have a roof leak and wood rot or either of the two, sometimes the damage is severe and become far too expensive to fix. Any damage done to your roof, whether it is from a storm, heavy winds, or just everyday strain, can rack up hefty costs, which is why total replacement is often times ideal.
Roof replacement is also more economical than re-roofing because you won't have to risk suffering from the old problems you used to have. By installing brand new materials, you are eliminating problem areas altogether and starting fresh, which means your roof can last throughout the duration of your stay in your home and even increase the value if you decide to sell it.
The many signs you may need a roof replacement:
Your shingles are broken, torn apart, coming off, buckling, cracked, or missing altogether
Your roof is beginning to leak into your home, creating warped spots in your ceiling
The shingles/tiles on your roof are discolored, missing, or just look worn down
The flashing on your roof is damaged
There are evident signs of wood rot and mold growing, allowing your roof to succumb to deterioration
Your roof is 25 years old or older
Products
Owens Corning Roofing Options
Owens Corning offers a wide variety of shingle options, all of which meet the highest standards of quality, durability, and appearance. The three main categories are architectural, specialty, and traditional shingles. Architectural shingles are available in many lines, including TruDefinition Duration Shingles and Oakridge Shingles. Similarly, specialty shingles include Devonshire Shingles, Berkshire Collection Shingles, Duration Premium Cool Shingles, and TruDefinition Duration Storm Impact Resistant Shingles.
Benefits of Owens Corning shingles:
A variety of color choices
Energy efficient options
Extensive warranties
Strong and durable
Headquartered in Joplin, Missouri since 1944, TAMKO serves its customers with innovative, professional-grade roofing and decking products.
MetalWorks® AstonWood® Steel Shingles
Beautiful. Strong. And ENERGY STAR® qualified.
Like all MetalWorks offerings, AstonWood Steel Shingles are ENERGY STAR qualified cool colors which may help reduce cooling costs*
All MetalWorks Steel Shingles are also rated by the Cool Roof Rating Council (CRRC)
Built for performance.
G-90 steel construction
Special coating process resists dirt and environmental aging. Coating system with Kynar 500®/Hylar 5000®
100% recyclable and made from up to 50% recycled material
Four-way locking system for enhanced performance
Custom color matching
For a color requirement that does not appear in Standard Colors, please contact TAMKO® to inquire about our Special Color Program
Lightweight compared to traditional roofing products
MetalWorks Accessories
Designed for convenient installation.
Fewer shingles per square and fewer fasteners
Can be applied over existing asphalt shingles (up to two layers), eliminating disposal costs and mess**
Contact TAMKO or Underwriters Laboratories for specific application requirements for UL Class A rated systems
All MetalWorks Steel Shingles are available in the United States and Canada
IKO is a family-owned company that is committed to manufacturing quality residential and commercial roofing products since 1951, with the company motto "Setting the Standard" to embody the quality, durability, and innovation they do every day.
IKO Roofing Shingles
For beautiful protection that's engineered to last, IKO roofing shingles set the standard. You'll find the perfect roofing shingles for your home in one of IKO's three collections: Architectural, Premium Designer or Traditional 3-Tab.
Traditional 3-Tab
Traditional 3-tab shingles remain a popular choice for homeowners looking for affordable weather protection and a huge selection of beautiful colors to complement their home.
Architectural
IKO's architectural shingles are the most popular choice. They are available in a wide array of patented color blends and their high profile and dimensional thickness will enhance the look of any style home. Cambridge roofing shingles have one of the heaviest mats for superior weather protection.
Premium Designer
Premium Designer shingles offer the ultimate in weather protection and provide the look of natural slate tiles or cedar shakes without the maintenance.
Roofing Shingles
GAF offers three distinct levels of shingle quality and protection, plus a remarkably affordable slate shingle option. We'll help you select the one that is right for your home's design and location.
Three-Tab (3-Tab) Shingles
Affordable basic protection for projects on a limited budget.
Timberline® Lifetime Shingles
Protect and beautify your home with Timberline®, North America's #1-selling shingles. Timberline® shingles now have a lifetime limited warranty!
Designer Lifetime Shingles
Beautiful, stylish, and exceptionally durable, Designer Lifetime shingles will make your home the envy of the neighborhood!
Headquartered in Valley Forge, PA, CertainTeed is a leading North American manufacturer of building materials and specializes in the production of high quality roofing and other materials including vinyl siding, trim, fence, railing, decking, insulation, gypsum, and ceiling products.
Many homeowners choose CertainTeed for their home installation or remodel. Here's why:
A broad selection of over 40 fade resistant colors to choose from
Shake and Shingle siding comes in a variety of blends and textures to achieve the style you want for your home
CertainTeed TrueTexture products are regarded as the most authentic wood look in the industry
Over 400 roofing options
Products are low-maintenance and long-lasting
CertainTeed Asphalt Shingles
CertainTeed manufactures a variety of high quality, durable asphalt roofing systems. Asphalt roofing shingles are the most commonly used covering on residential properties in the market. Asphalt's primary purpose in roofing shingles is to serve as a waterproofing agent. Asphalt also holds the granules in place and adds to the overall strength of the roofing shingle. The best asphalt will stay flexible and will not dry out or become hard or brittle for the expected life of the roofing shingle.
Strip Asphalt Roofing Shingles
Strip asphalt roofing shingles are single-layered asphalt roofing shingles typically designed to look like slate. Strip roofing shingles are usually the lightest weight asphalt roofing shingles available in the market. Built on a tough fiberglass base, each shingle provides resistance to blow-off and tearing.
Dimensional Asphalt Roofing Shingles
Dimensional asphalt roofing shingles are manufactured as multi-layered products and provide a thicker and richer appearance on the roof (a multi-dimensional look). Dimensional roofing shingles typically are heavier weight than strip roofing shingles and usually have improved warranty protections, which can range from 30-years to Lifetime.
Premium Asphalt Roofing Shingles
Premium asphalt roofing shingles are usually described as laminated shingles that have a differentiated appearance or functionality from traditional dimensional asphalt roofing shingles. These products may have designs that mimic "old-world" roofing shingles, like natural slate or natural shake roofing shingles. CertainTeed's Grand Manor™, Presidential Shake™ and Centennial Slate™ shingles are prime examples of premium roofing shingles that provide an enhanced aesthetic appeal.
Atlas is an innovative manufacturer of residential and commercial building materials that is dedicated to their customers. Founded in 1982, Atlas has grown into an industry leader and is featured in state of the art facilities around the world.
Atlas is leading the roofing industry in quality manufacturing of residential and commercial building materials. These excellent products include:
wall insulation
roof insulation
roof shingles
roof underlayments and more.
Get a free roof replacement cost estimate from a roofing company you can count on
You don't just want a company that has all the right certifications and licensing. While those licenses and certifications are important and crucial to the company's existence in the first place, reliability, credibility and the relationship you build with a contractor is far more important than anything. Here at Mighty Dog Roofing we pride ourselves on providing unmatched customer service and quality, reliable solutions. We want to work WITH you to achieve the results you want, with a price you can afford and be satisfied with.
If you live in Simpsonville, Greenville, Easley, Anderson, Greer, Salem, Greenwood, Taylors, Hendersonville, Balsam Grove, or any other area in Greater Greenville, call us today to schedule a free roof replacement cost estimate.