Simpsonville, Greenville, Easley Asphalt Shingle Roofing Contractor
Expert asphalt roof repair, maintenance, & installation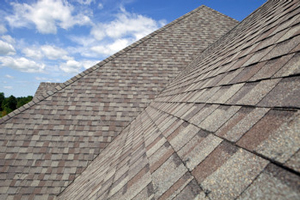 Versatile & affordable roofing. Four out of five homes have an asphalt shingle roof. With a wide array of styles, asphalt shingles can achieve almost any desired look - affordably.
Asphalt shingles are the most popular roof covering for homes, largely because they are relatively inexpensive, are durable, and come in a wide variety of styles, colors, and textures. Here at Mighty Dog Roofing, we carry three-tab shingles and architectural shingles from leading manufacturers to give your home a long-lasting beautiful finish.
To get the longest life out of your asphalt roof, proper installation, maintenance, and repair is necessary. That's why it's important to choose an experienced, professional contractor you can trust.
We are your local asphalt roofing expert serving Anderson, Greer, Salem, Greenwood, Taylors, Hendersonville, Balsam Grove, and many areas of South Carolina.
Contact us today for your free estimate on shingle roofing
Call us at 1-855-545-2778 or click below to schedule your roof inspection and get a free shingle roofing cost estimate.
Benefits of asphalt shingle roofing
Low maintenance - When installed properly, asphalt shingles require little maintenance & can be easily repaired if damaged.
Affordability - The low material cost & long life expectancy of asphalt shingles provide unmatched value.
Versatility - Asphalt shingles are available in an array of styles and colors to match any home.
Durable Protection - Most asphalt fiberglass shingles have a Class A fire rating and excellent wind resistance.
Products
TruDefinition® Duration Shingles provide durability infused with stunning designs and colors to give your home instant curb appeal!
TruDefinition® Duration® Shingles with patented SureNail® Technology offer a high-end, premium look, which gives your home the appeal you desire, at an affordable price. Available in eye-catching colors, TruDefinition® Duration® Shingles provide:
A Limited Lifetime Warranty*
130-MPH Wind Resistance Limited Warranty*
Algae Resistance Limited Warranty*
Fresh, dynamic contrast
Deep shadow lines and greater dimension compliment your entire home
(*for as long as you own your home)
Simple, Solid and Smart: Supreme Shingles by Owens Corning
These traditional three-tab shingles add classic value to your home while enduing the challenges nature provides for roofs. With a variety of deep, natural colors, your roof will not only look stunning but last with the seasons.
Features include:
A Limited 25 Year Warranty*
60-MPH Wind Resistance Limited Warranty*
Algae Resistance Limited Warranty*
Traditional yet high quality shingle style
ENERGY STAR rated to help reduce heating/cooling costs
(*for as long as you own your home)
Owens Corning™ Roofing Hip & Ridge Shingles do more than just deliver added protection to the most vulnerable areas of your roof — they enhance the roofline and help define the character of your entire home.
Limited Lifetime Warranty* (for as long as you own your home)
110/130-MPH Wind Resistance Limited Warranty
10 year algae resistance warranty
Headquartered in Valley Forge, PA, CertainTeed is a leading North American manufacturer of building materials and specializes in the production of high quality roofing and other materials including vinyl siding, trim, fence, railing, decking, insulation, gypsum, and ceiling products.
Many homeowners choose CertainTeed for their home installation or remodel. Here's why:
A broad selection of over 40 fade resistant colors to choose from
Shake and Shingle siding comes in a variety of blends and textures to achieve the style you want for your home
CertainTeed TrueTexture products are regarded as the most authentic wood look in the industry
Over 400 roofing options
Products are low-maintenance and long-lasting
Landmark is CertainTeed's tried-and-true architectural laminate roofing shingle. Designed to replicate the appearance of cedar shake roofing, Landmark is available in an impressive array of colors that compliment any trim, stucco or siding.
Dual-layered construction provides extra protection from the elements

Ten year StreakFighter® algae-resistance warranty

Priced at a fraction of the cost of traditional cedar shake
Upgrade your home with a durable, energy-saving roof
Whether you're looking for an inexpensive roof covering or stylish high-performance shingles, we offer asphalt shingles to meet your style and budget. Asphalt shingles are available in two varieties: fiberglass (or composition) and organic. Composite shingles are made of a fiberglass base mat with a waterproof asphalt coating that protects against weather damage. The traditional 3-tab asphalt shingle has been around a long time and is the most common roof covering. Architectural, or dimensional, shingles provide value and strength in a genuine wood-shake look.
Many manufacturers have adopted energy-saving technology to reduce the amount of heat absorbed by your roof. We install ENERGY STAR-rated cool roof shingles designed to reflect the sun's rays, reduce the temperature of your roof, and help lower your energy costs.
Ensure a lasting roof with our quality asphalt roof services
Our trained, experienced roofers make sure that each shingle is nailed down properly to prevent blow-offs and roof leaks. In addition to asphalt shingle installation and repair, we also service a wide variety of roofing materials and can handle all types of roof repair, new roof installation and re-roofing jobs.
Contact us today for a free shingle roofing cost estimate for the roofing services you need. We proudly serve Greenville, Easley, Simpsonville, Greenwood, Anderson, Greer, Balsam Grove, Taylors, Hendersonville, Salem and nearby towns and cities.